Praise the lord and pass the ammunition
In
Five Star Final
(1931), Edward G. Robinson assigns a drunken reporter (Boris Karloff) to invade the home of a woman who was in the news long ago and sniff around for a story. When Karloff reappears dressed as a clergyman, Robinson looks him up and down and remarks, "You're as blasphemous an object as I've ever seen."
I've got that beat. Call it the Spring Religious Offensive. Yesterday a group of peaceful protesters was dispersed with tear gas and rubber bullets so Trump could visit St. John's Episcopal Church, apparently because it was closest to the White House. The bishop of Washington,
Marion Budde
, was outraged: "The president just used a Bible...and one of the churches of my diocese, without permission, as a backdrop for a message antithetical to the teachings of Jesus." A Jesuit named James Martin was more direct: "This is revolting. A Bible is not a prop. A church is not a photo op. Religion is not a political tool." Really? Where have you been, father?
Undeterred, Trump got Melania out of her suite and made her accompany him to the shrine of Pope John Paul II, because she's putatively Catholic. This angered
Archbishop Wilton Gregory:
"I find it baffling and reprehensible that any Catholic facility would allow itself to be so egregiously misused and manipulated in a fashion that violates our religious principles, which call us to defend the rights of all people, even those with whom we might disagree." I hope their excellencies, or whatever you call a bishop, appreciate that Trump is making Sharpie-scribble at the bottom of yet another Executive Order about religious freedom, which is under siege in our Great Country from wise guy bloggers like me. Not today, though. Today I stand with them.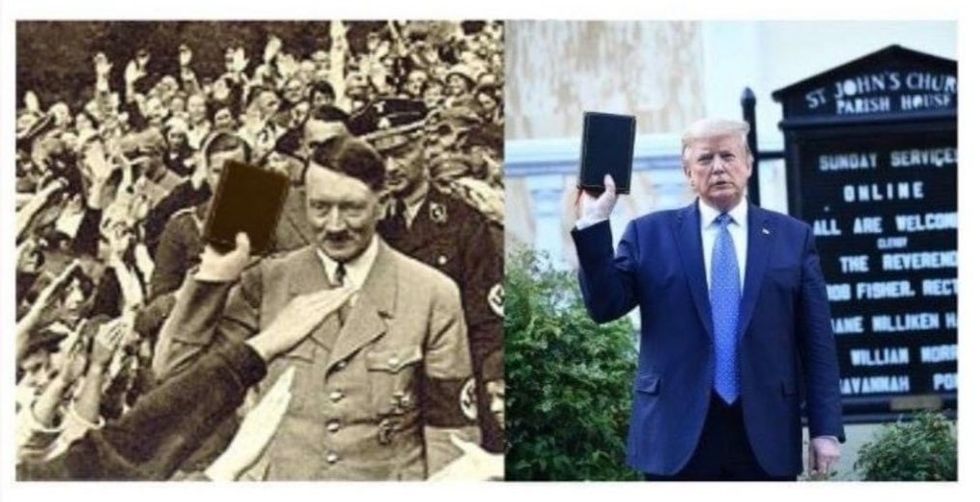 I am indebted to
Evan Hurst at Wonkette
for this photo mashup, and for pointing out that Trump is the one holding the Bible upside down. Say what you like about the other guy, he wasn't illiterate.
Richard Wolff
in the Guardian is insightful as always, but it's Evan who noticed that the day began for Donnie with a phone call from the boss in Moscow. Vladimir Putin has been expert at using the
Russian Orthodox Church
to advance his agenda. As his puppet flails and flounders, Putin may have ordered him to play the religion card instead of hiding in his bunker like a loser. Every mosque, synagogue and Friends meetinghouse within fifty miles of the White House may want to think about turning out the lights and locking the doors. Apparently he's sufficiently afraid of covid that he won't be inviting his evangelicals to crowd into the Oval and rub up against him, at least for now.