S*** gets real!
Tom Hanks and Rita Wilson have tested positive for COVID-19. Movie stars can get it!
Fabio Wajngarten has also come up pos. Why is this significant? He's the press secretary of Jair "Brazilian Fuhrer" Bolsonaro. He was at Mar-a-Lago last week and got a free hat. (The gold-lettered ones are for special guests.)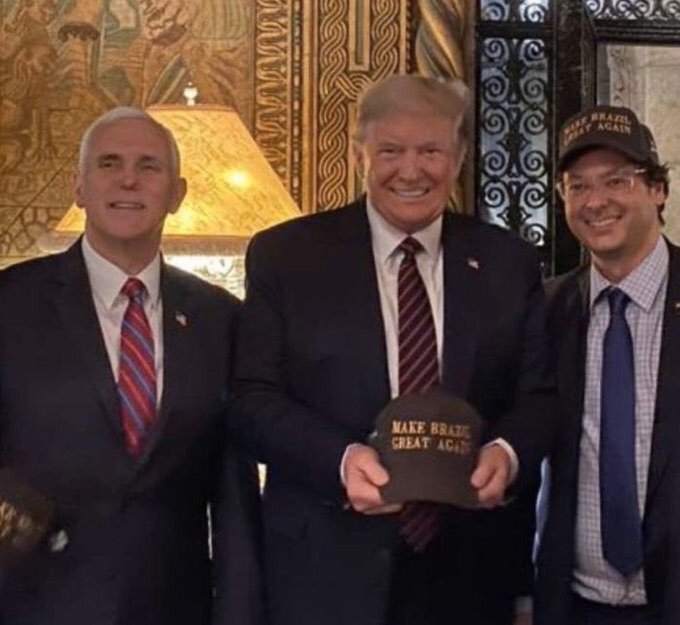 189,000 lucky Americans can get tested for Coronavirus this week. It's only a little short of the four million promised by Mike Pence.
Chancellor Angela Merkel, who listens to real experts, says that seventy percent of Germans may contract the virus. That's why Trump has ordered a travel ban on those European countries which have failed to acquire Trump golf courses. UK and Ireland, y'all come!
Prime Minister Justin Trudeau and his wife
are self-isolating
after she returned from the UK with a low-grade fever.
Now would be a good time to declare an emergency, making extra funds and resources available. The "task force" is ready as soon as failed real estate mogul/slumlord
Jared Kushner
gets done reading all the stuff they sent him.
The Dow Jones has officially entered a
bear market,
and even Warren Buffett is stunned. Every time it drops precipitously, a "circuit breaker" suspends trading. Yes, just like your crummy PC, they have to try unplugging it and plugging it in again. Greatest economy ever!
The pandemic is good news for more than a hundred thousand residents of Detroit, whose
water was shut off
due to unpaid bills: Governor Gretchen Whitmer and city officials will suspend shutoffs and restore service so people can wash their hands. This is encouraging for the millions of Americans who have been denied running water for years because they can't pay for it. I'm so proud of my country right now I can barely type.
Trump isn't the only asshole who hates the media. Utah Jazz player
Rudy Gobert
made a point of touching all microphones and recording devices after learning he had the virus. Oh, and the rest of the NBA season has been suspended.
The NCAA tournament will be played, but without spectators. Call it March Mildness.
When we last saw Matt Bevin, he was pardoning rapists and murderers on his way out the door as governor of Kentucky, just to own the libs. Now he's on the Twitter,
making funny
about the global pandemic. Next month he opens at Club Laffs in Paducah.
Joe Biden is speaking on the pandemic and the government's woeful response right now. No doubt he'll be accused of politicizing it, but it's a nice change from the snuffling, slurring, simple-minded drivel we got about the "foreign virus" last night. Next time, they should just point the camera at the Teleprompter and let us read it ourselves while Trump toilet-tweets and eats ice cream. Look, I wanted Liz Warren, but lancing the orange boil is Job One. If it's Joe, then Joe be it.
Trump is actually cancelling some of the hate rallies that invigorate him like Dracula sucking a virgin's jugular, even the March 25 event in Tampa for which
"tickets have been selling well."
Tickets? I thought all you needed to get in was a red hat and a porcine expression.
A big, successful, totally-cheated-of-many-Emmys TV star like Trump should know better than to say "fuck" on an
open mic.
It's annoying to find you've soiled your white shirt with Sharpie ink, but if it were anyone else the morality police would be demanding FCC sanctions. It's a wardrobe malfunction
and
a Word You Can't Say On Television.
Patty Murray's
paid sick leave bill
was stalled in the Senate by Lamar Alexander (R-TN), who apparently wants more dead Americans to be his legacy. Meanwhile, the Fed will be pouring
several trillion dollars
to prevent a recession before November. After that it's Somebody Else's Problem.
America is the land of faith healers and snake handlers, right? Well, take a look at Russia, where the
"Holy Royal Martyrs"
planned a procession to pray away the virus in Lipetsk. Their parade was scuppered by local authorities on a day when eight new cases were reported by the Health Ministry. For those who aren't Orthodox,
Alex Jones
is selling a toothpaste he claims will kill viruses. Do not operate heavy machinery such as cars. May cause drunkenness.
No St. Patrick's Day parades. Erin go home.